"Great leaders are almost always great simplifiers, who can cut through an argument, debate and doubt to offer a solution everybody can understand."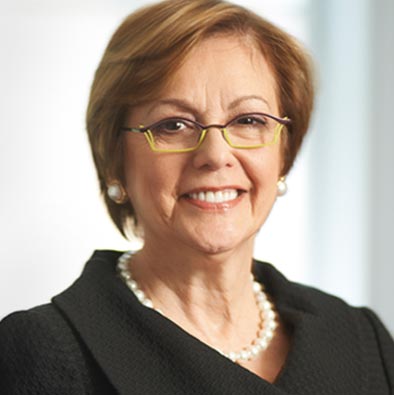 Emmy Miller
President & Co-Founder
267-858-4021 office
215-901-2582 cell
With over 30 years experience in executive coaching, change and transition management, strategic planning, leadership development and organizational effectiveness, Emmy understands the issues senior executives face daily and is skilled in the solutions that create outcomes companies desire. Her work focuses on achieving tangible business results and creating lasting impact in her clients' organizations. Known for her direct, constructive feedback and insight, she holds her clients accountable for making change. How? She has the peripheral vision to connect the dots which enables her clients to transform their insight in to new behaviors. Emmy will tell you that, "Clients usually don't need an entirely different tool box but a bigger one." As such, she is always learning something new to share with her clients. She has served on the national board of Human Resources People and Strategy (HRPS) and the Forum of Executive Women.
Emmy and her parents moved to the United States when she was 18-months old. When she was eight-years-old, she became a naturalized American citizen having learned English as a second language. The first people she helped to actualize their potential were her three sons. These days, Emmy and her husband are enjoying their 10 grandchildren and their dog Poochie. Emmy has traveled extensively for business and pleasure to countries in Africa, Asia, Latin America, Europe, and the Caribbean but loves coming home to Philadelphia. Her perfect Sunday afternoon consists of a leisurely read of the New York Times and the Financial Times with a cappuccino in the library of her historic townhouse. Candidly, most days Emmy finds her way to a cappuccino; it is something she says she can't live without.
Emmy is a Certified Coach by the International Coaching Federation.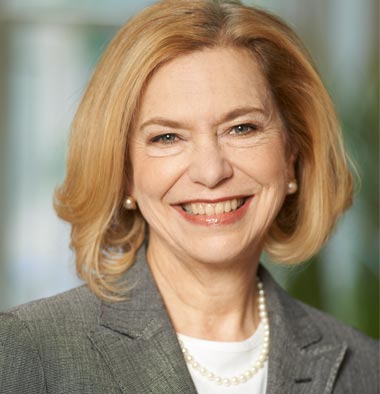 Gail Howard, Ed.D
Managing Director & Senior Consultant
267-858-4021 office
302-290-6340 cell
Gail has served as a consultant, senior human resources executive, and coach. She incorporates the best practices of both "insider" experience with "outsider" objectivity to support her clients. She really enjoys change management projects because they are tough and critically important to a company's success. Her clients call her personable, professional and patient. They expect her to get to the heart of an issue and clarify complex concepts without "dumbing it down."
She has served on more than a dozen nonprofit boards during her 25+ year career. When she's not working, she likes to stay active outdoors. If you are lucky enough to get an invitation to her home – accept immediately. She is an excellent cook, famous for her dinner parties. Two things Gail hates are to be bored and driving an automatic – every car she has ever owned has been manual transmission. When she reads for fun, it is usually science fiction, her favorite.
Consulting Cadre
Melanie Cloyd
Consultant
As a consultant for Liberty Business Strategies, Melanie Cloyd leverages her 20+ years in business and academia to bring insight, perspective and experience to many aspects of consulting. Her work with leaders as a strategic advisor and coach enables her to present solutions and direction on human resources strategies. She has significant experience in the corporate, consulting and academic environments, and worked with leaders to drive organizational development. In addition, she maintains a private consulting and coaching practice specializing in leadership development, coaching and HR consulting..
Melanie has experience designing and facilitating training and workshops for individuals, groups and organizations. Melanie's most recent work has focused on team building, leadership development, communication and conflict resolution.
Amee Olson
Senior Consultant
For 20 years, Amee has worked with leaders across the globe to identify what's getting in the way of achieving their goals by looking at both their personal leadership and the complex organizational and market forces they must navigate to succeed. As a coach, she is passionate about helping leaders achieve strategic and profit objectives while building inclusive, high-performance cultures.
Amee specializes in executive advisory services, including:
Executive Coaching
Executive Onboarding
Talent Management and Executive Succession
Team Offsite Planning and Facilitation
Performance Consulting that Aligns People, Process, and Strategy
Organizational Restructuring and Culture Change
Christiane Frischmuth
Senior Consultant
Christiane Frischmuth is a coach, a facilitator, process consultant, trainer, and leadership development specialist with more than 25 years of experience. She co-creates and facilitates learning experiences and change processes for individuals, groups and organizations. Christiane has deep experience in developing global, results-based leadership programs as well as supporting organizational decentralization processes, mergers, and various functional integrations. Some of Christiane's recent areas of focus have included on-boarding of new consultants and staff, development of virtual teaming practices, integrating learning and capacity building into business practices and government- and organization-wide rapid results processes. She has worked and lived in Asia, Europe, Africa, Latin America and North America.
Amy Gross
Consultant
Amy Gross' diverse professional background serves as the foundation of her results-driven work with clients. Amy has held management positions in business development, marketing, and research in both consulting and corporate environments. She has had a significant coaching and consulting career in academic, athletic, and mental health settings. She has spent 15+ years coaching and competing as an elite athlete and brings a collaborative and strengths-based approach to every client interaction. In addition, she maintains a private coaching and consulting practice specializing in helping individuals and athletic teams perform optimally, as a private practitioner for a psychology practice, and serves as a key resource on the Liberty Business Strategies team.
Amy has experience designing and facilitating training and workshops for individuals, groups, and organizations. Amy's most recent work has focused on coaching engagements, change management initiatives, and integrating the results from formal assessment tools with workplace observations to enhance leadership performance.
Bonnie Kramer
Senior Consultant
Bonnie Kramer is an internationally experienced consultant and successful manager with a 25 year progressive career in private and public sector organizations. Accomplished in designing and delivering organization change initiatives, Ms. Kramer has particular expertise in moving from strategy to implementation. She is highly adept at driving consensus and decision making in complex, global institutions. Her experience includes in leadership coaching, business process innovation, accountability frameworks, organizational restructuring and culture change.
Roland Livingston
Senior Consultant
Dr. Livingston has more than 25+ years of experience as a business and human resource executive and as an educational leader. He has worked extensively in:
Coaching senior-level executives and teams.
Coaching key leaders in profit and non-profit environments.
Providing training and organization development consultation in the United States, Europe, Asia, and the Caribbean.
Directing the human resources and labor relations activities in the businesses in which he has worked.
Facilitating work process redesign and establishing production methods and standards as an industrial engineer in manufacturing environments.
Chris Satullo
Senior Consultant
Chris Satullo is nationally known for his work in media, communications and civic engagement. Over decades of leadership positions in commercial and public media, he gained deep experience at spotting disruptive change on the horizon and helping teams adapt. The winner of more than 60 journalism awards, Chris grasps the power of story and narrative to frame how people perceive and respond to events. As co-founder of the Project for Civic Engagement at the University of Pennsylvania, he has led dozens of projects that helped companies, nonprofits and government agencies engage civilly with the public in ways that produced useful guidance for leaders. He has also helped nonprofits and companies use those same techniques of dialogue and visioning to craft strategies to build buy-in from staff.
Chris' leadership roles include the creation of a number of innovations to provide deeper and broader public insight. From 2008 to 2015, he was Vice President of News and Civic Dialogue at WHYY/NewsWorks, Philadelphia's leading public media outlet. While at WHYY, he launched the NewsWorks.org website, the radio programs NewsWorks Tonight and The Pulse, and two award-winning statewide reporting initiatives, StateImpact PA and Keystone Crossroads. Previously, he was a news executive at the Philadelphia Inquirer, where he served as Editorial Page Editor and wrote the Centre Square column. He launched the paper's Currents and Community Voices sections and led the award-winning Great Expectations civic dialogue project on the 2007 Philadelphia City Elections. An expert in civic engagement, in 2006, he co-founded the Penn Project for Civic Engagement at the University of Pennsylvania. Before the Inquirer, he worked at the Express newspaper in Easton, Pa., where he was assistant managing editor and wrote a syndicated column.
Operations
Dawn Connally
Executive Assistant to Emmy Miller
Barbara Korte
Executive Assistant to Gail Howard
Marie Page
Accounting
"Between stimulus and response there is a space. In that space is our power to choose our response. In our response lies our growth and freedom."